Sat, 30 August 2008
Visibility 9-11 Welcomes Erik Lawyer, Fire Fighters for 9-11 Truth
This week Visibility 9-11 Welcomes Erik Lawyer, founder of Fire Fighters for 9-11 Truth. Erik is a veteran fire fighter with the city of Seattle and recently woke up to the lies being promoted by the mainstream media, the government, and the 9-11 Commission. From the FF911T website:

"Firefighters for 9-11 Truth is a non-partisan association of firefighters and affiliates created to increase awareness, provide public education, demand a real investigation that follows National Standards, and provide support to our Brothers and Sisters in need. We are deeply troubled by the "official" story, and the way the rescue workers from Ground Zero are being forgotten."

Erik recently penned an article titled MAYDAY...MAYDAY...MAYDAY which documents his path aimed at truth, justice, and accountability for those truly responsible for the events of September 11th, 2001. Visibility 9-11 enthusiastically supports Erik and all his fine efforts.

Intermission music by Robbie Robertson.

Ending music by the Anthony Brown Orchestra (Gershwin).



Comments[0]
---
Thu, 14 August 2008
Visibility 9-11 Welcomes Author Mark Watterson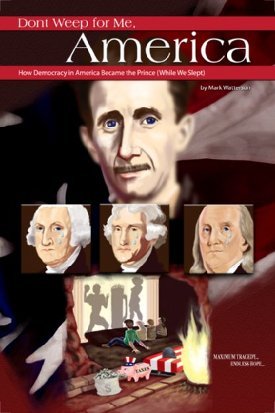 This week Visibility 9-11 welcomes Mark Watterson, author of the new book Don't Weep for Me America; How Democracy in America Became the Prince. Mark Watterson masterfully brings together the information required to really understand what is going on in America today. Watterson explains in great detail how our government has transformed into a rogue state willing to commit false flag terrorist events against its own citizens.

This is the best book I have ever read which will help the reader connect the dots between major events in our history. Citing numerous examples, Watterson paints a dim picture of a tainted history which has been re-written for public consumption by those who own the media in America. Don't Weep for Me America, despite being packed with a lot of information, is written in a very readable and logical manner with a passionate, yet very personable style. Readers will be led through a series of important underlying themes which include and introduction the the monumental work, 1984 by George Orwell, the allegory of Plato's Cave, Alexis de Tocqueville and his book, Democracy in America, and Niccolo Machiavelli, who in 1513 penned the book The Prince.

This book comes highly recommended by Visibility 9-11 and will be a valuable tool, both in the terms of the knowledge you will gain by reading it and as a tool to wake friends and loved ones up about what is really going on in America. Don't Weep for Me America is the Red Pill and will wake people up. No one who reads this work will ever see the world the same again.

Intermission music by Anne Waldman.
Ending music by The Dixie Chicks.



Comments[0]
---