Sun, 20 April 2008
Visibility 9-11 Welcomes Chris Emery, okcbombing.net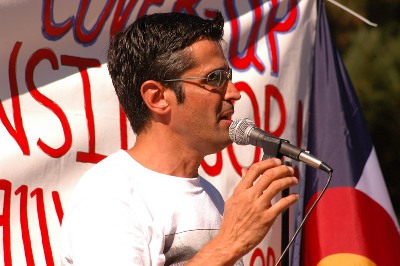 On this, the 13th anniversary of the tragic events of the Oklahoma City Bombing, Visibility 9-11 welcomes researcher, activist, and documentary film producer Chris Emery. On April 19, 1995 multiple bombs virtually destroyed the Alfred P. Murrah federal building in downtown Oklahoma City killing 169 men, women and children and wounded scores of others. Just as with the events of September 11th, 2001, the official story of what really happened in OKC has been proven to be a falsehood by Chris and his colleagues at the Oklahoma City Bombing Investigation Committee.

For more information, visit www.okcbombing.net and listen to the prior interviews on this topic from the Visibility 9-11 archives.

Visibility 9-11 Welcomes Oklahoma State Rep. Charles Key

Visibility 9-11 Welcomes OKC Bombing Survivor VZ Lawton

Visibility 9-11 Welcomes Chris Emery, okcbombing.org (2007)

Music by John Heartson.


Comments[0]
---
Tue, 15 April 2008
KRFC 88.9 Membership Drive on Words of Freedom
The 2008 Spring Membership Drive at KRFC 88.9 FM presented a great opportunity for the launch of the first Week of Truth campaign, The National The Shell Game Buy In Week of Truth, April 16th – 22nd, 2008.

As I have pledged, Visibility 9-11 will be purchasing 10 copies of The Shell Game, by Steve Alten during the Week of Truth. As I considered what I would do with these 10 books, it occurred to me that KRFC was right in the middle of their bi-annual fund raising drive and that it might be possible to get on as co-host of Words of Freedom for a special episode of the show. My plan was to donate the 10 books to the station, offer them as a premium gift to contributors, and have Steve Alten on as a guest to kick off the Week of Truth buy in for The Shell Game. Long story short, David Peterson at KRFC gladly found me a 30 minute spot during the fund drive. This interview is a result of that collaboration.

I urge all my listeners and supporters to go to www.weekoftruth.org and get involved in The National The Shell Game Buy In Week of Truth. This is a way everyone, for a small expense, can get involved and make a difference.

Special thanks to David Peterson, George Flynn, and everyone at KRFC 88.9 FM in Fort Collins Colorado. Please take a moment to let them know how much you appreciate their support of 9-11 Truth.


Administrative Office
970.221.5075
Comments[0]
---
Thu, 3 April 2008
Visibility 9-11 Welcomes 9-11 Blogger and Researcher Aidan Monaghan
This week Visibility 9-11 Welcomes 9-11 blogger and researcher Aidan Monaghan. Aidan is an active blogger at 911blogger.com and has focused on using the Freedom of Information Act to get information pertinent to the 9-11 attacks and subsequent cover-up. FOIA requests initiated by Aidan have attempted to gain information about the 4 aircraft used on 9-11, information about remote control technology possibly installed on the 4 aircraft, and the reported power down at the World Trade Center in the days just prior to 9-11.

Intermission music by The DareRing.

Ending music by Syntax Band.



Comments[0]
---